Serving Little Rock AR & Surrounding Cities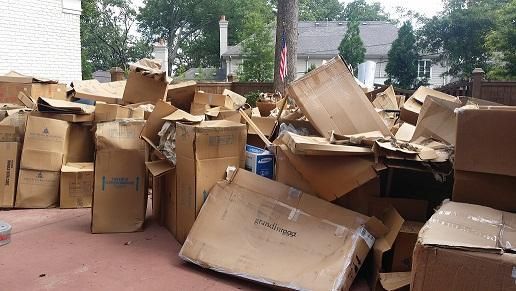 Don't Stress, We Haul For Less! Call The Best For Your Junk And Mess!
Affordable Junk Removal Service in Little Rock, AR
Dear customers Since everyone is urged to clean the environment due to Covid 19 breakout. We have seen a rapid increase in the demand in our service, though the demand is high. We are taking extra measures at this time to ensure the safety of our clients and staff. Please advise us prior to coming if you require any additional steps be taken. we are open and ready to remove at your request
Fully Insured for Your Protection and Ours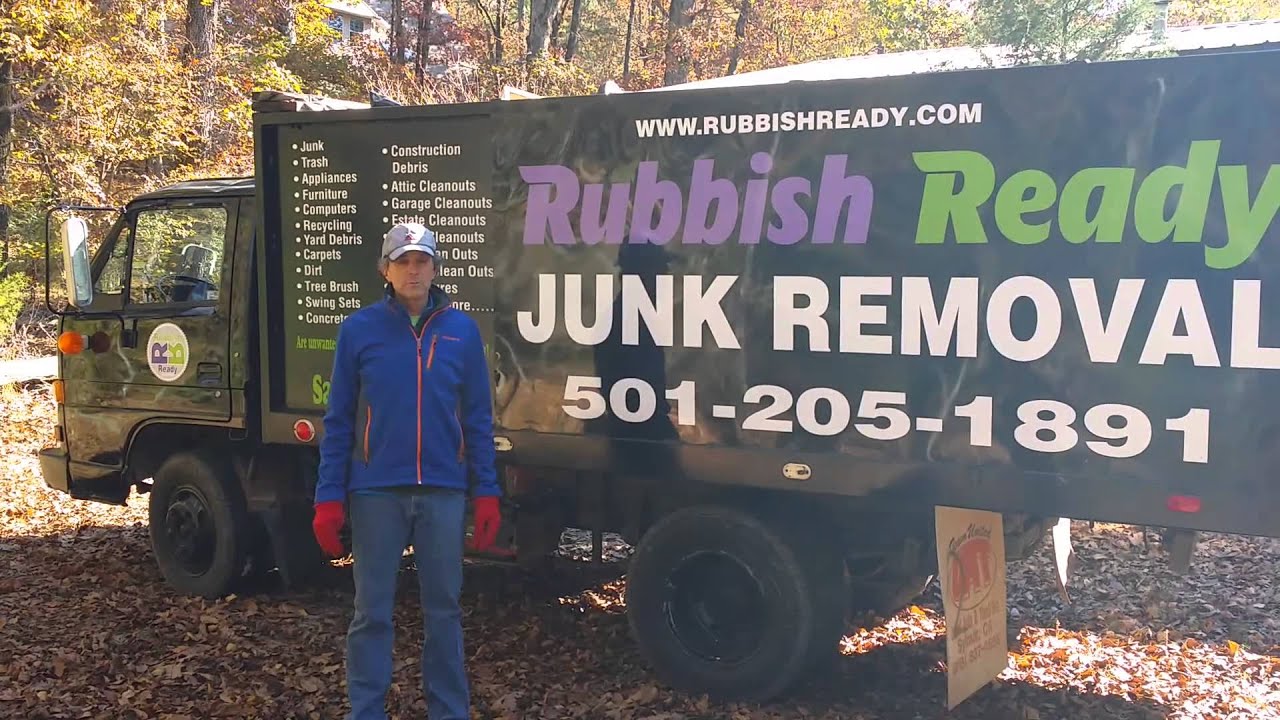 If you've got a mess that's overwhelming, call Rubbish Ready Junk Removal in Little Rock AR & Surrounding Cities to blow the debris away. The locally owned and operated staff of Rubbish Ready Junk Removal has eight years in the business, promising the efficiency and thorough job you expect for your hard-earned money.
Perhaps you've just scored a new business, but the environment is less than savory. A great way to clean up any wayward junk is by hiring a team to do it for you. What's excellent about our company is that we seek to offer environmentally friendly services. We recycle a large percentage of all waste products we haul away. Don't hesitate to call us at Rubbish Ready Junk Removal in Little Rock AR & Surrounding Cities We also offer:
Rubbish Ready Junk Removal is a Little Rock, AR, junk removal service that will make sure to keep your best interests in mind. You can contact us any day of the week, and you'll be greeted with a quick response and prompt service. Don't hesitate to set up an appointment as soon as possible.
Please
click
the link below to write us a review on Google. We are always looking for feedback from our valued customers.
Are piles of junk taking up valuable space in your Little Rock, AR home or business? Do you have unwanted furniture, appliances, or equipment sitting around collecting dust? Don't resign yourself to a lifetime of clutte...
Unwanted or broken appliances do more than just take up space. In some cases, they can actually create a hazardous work or home environment. If you're in need of appliance removal services in Little Rock, AR, call on us...
Going out of business? Not sure how to get rid of all your excess furniture, equipment, or inventory? We can help. At Rubbish Ready Junk Removal, we provide thorough, affordable business liquidation services to companies...

These guys were very professional, friendly and fast! So happy with the space they cleared in my garage

Bakari and his team were wonderfully efficient! I appreciate the text messages letting me know when they would arrive. My apartment complex is a bit tricky to navigate, but they were able to get in, remove my unwanted furniture, and finish up all in about 20 minutes! They were all really professional, and even my upstairs neighbor was curious about them and their service! This may seem like a small thing, but I appreciated their approach and that they had on logoed shirts. I live on my own, so I don't open the door unless I know who is coming and that they are who they say they are. I had a really good experience with Rubbish Ready!

- Moriah Pedro. 4/17/2020

Bakari and his team were great

I have used them twice. They came when they said they would and do an excellent job removing my junk.

They followed-up quickly when I called for their service. They were also prompt and courteous. I am hesitant of just Googling for services, but I saw their sign on the street first. Their phone demeanor made me more comfortable inviting them to my home, and then, I didn't mind leaving a record of my service on Google.

- Latanya Taylor. 3/25/2020

Excellent job. Called in morning to clean out a garage and yard. Scheduled same day cleanup. Came back for House Cleaning!! Would definitely use them again.

Bakari and his helper did great. Fast and easy removal.

- Courtnee Schaeffer. 3/20/2020

I really appreciate DKari* and his team for coming so quickly! Thanks again!

- Tawanna Campbell. 3/14/2020

I called them on Saturday and they came through same day, just a few hours later. They were professional and courteous with their service. I recommend them for any pick up needs.

The team was very quick. They took everything i needed them to take for a very fair price.

- Audreia Eubanks. 3/3/2020

These guys were great! I filled out an online form and received a call within 15 minutes and scheduled my pick up for the next day. I was also very surprised/pleased with the cost as I expected a much higher quote given the number and size of the items I needed removed. They also arrived exactly when they said they would. Will definitely be using them again.

Rubbish Ready was able to schedule quickly and removed our hot tub. They left the area very tidy and quoted a fair price.

- Britney Spees. 2/4/2020

Guys were here within an hour of calling. Very professional service!

- Stephen Reynolds. 1/22/2020

Bakari and team were phenomenal at getting my removal completed. I called this morning and they arrived same day, I am so relieved and a happy customer!!

- Neisha Darlington. 1/1/2020

These guys show up on time and do a great job. Will definitely use them again!

Great efficient company. Excellent job. Made my life much easier.

- Janet Horvath. 0/31/2020

I called this morning at 830 they arrived at 10:45am once they loaded everything we was trying to call roadside for a tire change bakari and the guys changed it for us everything was AWESOME 🤗 will use again

- Jessie Pratt. 11/27/2019

I received short notice same day service. The guys who came out loaded my junk quickly, and they were courteous.

Bakari did a great job picking up the unused wood from the house construction. They came same day as called. Even scrubbed mud off driveway before leaving.

- chick enwoman. 11/12/2019

khemet and the crew took away my trash exactly as i expected. they were fast and friendly. they were up front about the price.

- Rilian Kenneth Saunders. 11/11/2019

A great way to clean out! Guys nice and professional

- Andy Vondran. 11/6/2019

Professional, on-time, great communication, perfect junk removal. Will use again.

- Katherine Pope. 11/3/2019

Bakari and his guys did a great job! Came same day I called! Thanks big time!

Literally point at it and they make it disappear. Awesome service, prompt arrival, professional atmosphere. These guys rock.

- Mike Orgovan. 10/13/2019

Amazing service! Owner is great!

- Whitleigh Christensen. 8/26/2019

Great service! Will call them again!

- Theresa Devine. 8/14/2019

Wonderful service! Called the same day and they picked up in 30 minutes. Awesome guys. Use this service!

Working with Rubbish Ready was a fantastic experience! They were very professional, hard working, extremely careful with fragile items and very efficient. They loaded a huge truck load in just a few short hours. They cleared a two car garage, basement and other household rooms. I would highly recommend them to anyone

- Fredrick Anderson. 8/10/2019

- Carey Robinson. 8/6/2019

Great Service! Quick, easy and friendly staff! Bakari was especially helpful!

- Jennifer Emfinger. 7/31/2019

Quick, easy to deal with and affordable. Have used multiple times.

Bakari and his crew were on time and did a great job. Very friendly!

- Katrina Tarno. 7/22/2019

Fast and friendly service!

- Brittany Richards. 7/6/2019

Very prompt, professional, and worked around my schedule. Great guys that did a good job!

- Regina Brooks. 6/25/2019

The service was fast friendly and affordable they came at a great time and did not take all day getting the job done I would recommend this business to anyone... thanks again guys

Fast, prompt same-day service!!

- Zachary Black. 6/5/2019

Superb service. Professional. Reliable. I would highly recommend to anyone!

Great customer service and right on time!! Best price around also on junk removal!

- Jeremy Thomas. 5/29/2019

Excellent pick up service of the items I no longer need. It was easy to schedule a pick up. The crew of 2 came in on time. They were very nice guys. I showed them the items. They told me the exact cost, loaded the items in the truck, collected the payment and left. It was such easy to get my items removed.

Price and service was great bakari really helped us will use again

- Wallace Sims. 5/24/2019

- Paula Gentry. 5/24/2019

Great service. They arrived quickly and we're very affordable!

They did a great job getting rid of our moving debris!

- brandy linker. 4/30/2019

Great group of guys service was quick!

Amazing service! Bakari and his guys came and took a lot of things for a reasonable amount. Would highly recommend them!

- Rebecca Fullen. 4/21/2019

The guys were fast and did an awesome job!

- Chakita Scipho. 4/18/2019

They came out within an hour and 15 minutes of me calling and then sent me a text about 30 minutes before they arrived ! Bakari quickly looked at what I wanted removed and quoted me a very good price. It took them about 30 minutes to load up. Bakari and his two helpers were very polite and efficient!! Would definitely recommend!

- Cynthia Vinson. 3/19/2019

He is extremely prompt and organized

- SuperDreamingbelievi . 3/12/2019

- Lionel Henderson. 3/11/2019

So easy to schedule, super friendly staff, and very affordable compared to other companies. I kept changing my pick up date and the staff was flexible and did pick up with a smile!

Excellent service. They were able to move 2 trucks of things out of a sellers house with no lead time. The job was done quickly and professionally. I don't know why you would use anyone else.

- Mercedes Blackmon. 3/7/2019

3 rental units clean out in less than for hours

- Douglas Pleasant. 3/4/2019

These guys are fast with fantastic service

These guys are pretty awesome I spoke with Bakari and explained my situation and he had a truck in my drive way this morning in the pouring rain within 45 minutes of my call I'm very pleased with the service and will be calling back thanks again guys♡

Had a very good experience. Contacted on Friday, had our old hot tub removed by noon on Monday. Price was competitive.

- J. Jeff Pugh. 2/18/2019

Showed up when they said they would and did a speedy removal! Same day service when another junk removal company did not show up when they said they would. I would highly recommend!

- Cathleen McFarlin. 1/26/2019

Great communication and flexibility on timing. Told them what I wanted to get rid of, went inside the house, came back out after an hour and everything was gone - like magic! I can actually fit a car in my garage now AND I have some of my backyard space back. So thankful for these guys - I've used them twice now and won't be going anywhere else for junk removal.

- Jenna Reynolds. 1/5/2019

Bakari and the two men with him were professional and courteous. I would highly recommend this company to anyone in need of hauling away junk. The two men that performed the work for Bakari were AWESOME, and worked really well under pressure due to the truck getting stuck in the yard because of mud. I'm not sure how much $ it usually cost for junk removal and it was pricey (just so you know) to get rid of the eye-sore but I was willing to pay the price to remove it.

Good service! Easy to schedule, quick, and reasonable prices.

We called rubbish ready to clean out our storage units at 830 and they arrived at 930 great service and price

- Mark Washington. 1/4/2019

These guys have cleaned out 15 years of clutter in 2 hours outstanding service highly recommend and will use again

- Angela Sutton. 1/3/2019

Quick, friendly service. Arrived on time and I appreciated the ETA phone call.

- Josiah Moody. 0/23/2019

Bakari and the two staff with him were quick, friendly, and efficient. I had an extra piece of furniture that I needed removed, in addition to what I had called about. They handled it swiftly and without trouble.

- Fiona Dudley. 0/12/2019

BaKari and his guys did awesome work really quick. Very professional. Hauled off a TON of old stuff for a reasonable price. Would use again for sure.

- Jerad Gardner. 0/5/2019

Called them On a Sunday morning early. They were here by noon. Great help when we needed it most! Highly recommended.

- Elizabeth Cato. 11/17/2018

My partner and price shopped junk removal and clean up for our rent house. Quotes from "well known" chain companies (hunks who haul junk) started out at $1200 for 1/4th of what we needed removed. Rubbish ready came highly recommended. The estimate process was painless and fair. They hauling process was even more painless and quick. We will be using them for future work at our new house. I would highly recommend them to anyone who is looking to de-clutter or even better needs serious janitorial services. If I could give more stars I would!

- Blue House Creative Collective. 10/29/2018

Great quick service, with a no haggle experience! Would definitely recommend these guys!

- Thomas Gist. 10/25/2018

We prompt, curtious, friendly, professional and extra helpful. Would recommend to my grandmother. Most professional junk haulers in America!

Service was great. Showed up on time and finshed quick. Would definitely recommend

- Josh Dickerson. 8/21/2018

Amazing service, incredibly fast and affordable will be using them for any job I have from now on!

- Brooks Jansen. 8/20/2018

PERFECTION!!!!! Same day service! Outstanding job! Very fast! Very nice crew!!!! Very friendly and helpful! I HIGHLY RECOMMEND THIS BUSINESS!!! Will use again!!! Thanks guys!!!

- Johnny Maddox. 8/18/2018

Bakari did a great job look, forward to using you guys next time.

- Divakar Arora. 8/17/2018

I was really pleased with the service and price I paid. It was reasonable considering they were moving an old hospital bed from the 10th floor of an apartment building, negotiating an elevator and steps down the front of the building. The bed was pretty heavy too.

- Michael Pedigo. 8/12/2018

Bakari is the best! This is the 4th time we have use him, always execllant service. Always on time!

- Jane Anne Spikes. 8/7/2018

Good job. The workers are the best.

- Nikki Harper. 7/31/2018

Excellent service very reasonable price

Bakari and his team are amazing! I had two dumpster bags overflowing with debris and they came and had it all loaded and gone in under two hours. Great service

Excellent guys!!! Fast and efficient

- Carrieonnia Maryman. 7/6/2018

Bakari did a great job! Timely, very friendly and great service !

Great services they came less then 30 minutes within my phone call! Will highly recommend services again!

- Kimbriana Collins. 7/3/2018

Thanks Bakari and crew! They were super fast and friendly!

- Reginald Fisher. 6/26/2018

Excellent fast service. Great performance!!!! Best prices in town.

- Angel Harris. 6/25/2018

Reliable, friendly, prompt, fast. A+.

Great well worth the price

- Andrew Rogers. 6/9/2018

Quick response, very professional service. We've used Rubbish Ready several times and always same results.

- Arlo Washington. 6/9/2018

I've used rubbish ready several times for an estate clean out. The guys was always on time, and courteous and very efficient I highly recommend this company

- Janice Parker. 6/4/2018

Same day service very well pleased polite employees. Will use in the future

- Tamara Teague. 6/2/2018

Great service. They called ahead to confirm and were right on time. Highly recommend them.

Nice people. Recommend them

Great affordable service!!

- Cyndy Peyton. 5/18/2018

Bakari gave me a great deal. Same day service and reasonable. Highly recommend these guys.

- Clarissa Willis. 5/16/2018

Bakari the services offered are very satisfactory to me .

Bakeries and crew did a fabulous job. Same day service. Would definitely recommend

- Richard Smith. 5/9/2018

Great service same day showed up so fast!

- outlandish kampers. 5/5/2018

We called rubbish ready for a emergency cleanout on a rental property we have In searcy Arkansas they arrived 10 minutes early with two trucks wet carpet inside and out clean up would have took half the day these guys had the job done lessed than 2 hours service was outstanding and we will use again

- Patrick Himes. 4/26/2018

(Translated by Google) Bakari is awesome! (Original) Bakari is awesome!

- Hester Davis. 4/19/2018

Wonderful same-day service. The team worked efficiently and quickly. Definitely would use again!

Bakari and his associate called ahead, showed up on time, and quickly loaded. Well worth the $175 we paid. Thanks so much. M

- Terry DeZonia. 4/12/2018

Great customer service same day removal fast and reasonably priced will use again and also highly recommend

Absolutely amazing! They were professional and got my old furniture moved fast and at a good price!! Will be using them again if moving services are needed..

Dependable and prompt. Thanks :)

Great company, excellent customer service!!!

- Krystle Rucker. 3/20/2018

Bakari and and crew were prompt on time given, were efficient once they arrived. Was the Best price for the services that I was able to find.

- jeff burgener. 3/19/2018

Quick and professional service. Arrived 15 minutes early and compiled the junk removal within 20 minutes. Highly motivated, will use again!

Same day service was great. In and out and reasonably priced

- alex madison. 3/12/2018

I use them every time! The best.

- Taylor Otwell. 3/11/2018

Same day service cleaning out a storage unit. Fast, prompt and friendly! Great service and affordable price.

Bakari and his guys were great! Received next day service! Quick and very professional all for an affordable price!

Great!!! He came within an hour! Will recommend!

Professional staff - Bakari and Egrrial 2nd time using this service. Excellent!!

- Angela Crain. 2/30/2018

Bakari did a great job. Respectful, fast service. Thanks.

Bakari just cleaned out our service area. I called at 9:45 this morning, and they were here by 10:30! Great service. Great price.

Fast, professional same-day service.

- Carson Harper. 2/17/2018

Bakari and Virgel were very helpful.

Nice guys.. good price.. moved quickly. Definitely recommend.

- Sabrina Allen. 2/14/2018

Bakari was fast, professional and a pleasure to work with. Thanks!

Rubbish ready is a great company to get to move any junk you want removed very fast response time made out to me within a hour ..Bakari was very polite i will recommend using this company again

On time, efficient did a great job in the rain and highly reccomend.!!!!!!

Bakari and Rubbish Ready were fast, efficient, courteous, and they even swept up afterwards. Couldn't be happier.

Excellent and fast service! Friendly and professional! Fair pricing!

- Michele Long. 1/20/2018

Bakari and his crew were efficient, professional and courteous. I will definitely use them again.

- Josh Minshew. 0/22/2018

Bacard helped me out with getting a mattress out. Awesome job! Highly recommended

- Austen Walls. 0/20/2018

I called Rubbish Ready Friday night at 6:30 pm to inquire about a sofa and love seat removal. Much to my surprise, they were able to remove the furniture the next day by noon. The staff were on-time, friendly, efficient all at a fair price.

- Arnis Baumanis. 0/14/2018

I love Rubbish Ready! I'm a realtor and they have helped me out so many times with clean out and discarding of trash and old items. They remove everything except tires, liquids, chemicals and paint. They come almost immediately and are fast!

- Michelle Miller. 0/9/2018

- William Clarke. 0/3/2018

On time and great service.

- George Scaife. 0/3/2018

Bakari and his team were great. We called them and in less than an hour they had come to the house and were finished loading their truck.

- Courtney McEuen. 0/2/2018

Bakari was wonderful to work with. Very helpful and efficient. Very good service and price.

- Wayne Taylor. 11/29/2017

Great service. These guys were prompt and easy to schedule. Highly recommend them to anyone.

- Cooper Meeks. 11/28/2017

Bakari and Josh were very helpful and showed up same day. Service was swift and courteous...

We use rubbish ready 5 to 7 times out the month for our rental units they always go that extra mile

- George Anderson. 11/27/2017

I had a 1:30 appointment with rubbish ready to clean out basement & demolish a storage shed these guys arrived on time same day and finished the job safely and professionally not aware of a flat on my vehicle they also assisted me with my tire change before leaving my experience with this service was outstanding I highly recommend these guys

- Emanuel Kirk. 11/27/2017

Great and quick service. I have used them several times. Bakari is very professional!

- Robert Smith. 11/27/2017

Bakari gave great same day service with a smile.

- Steve Cosse. 11/18/2017

We've used Rubbish Ready twice. They've showed up promptly each time, were friendly and courteous, and picked up the items quickly.

These guys came to work! Very nice gentlemen, efficient, and quick!

- Amy Fortanelli. 10/28/2017

Great job! On time, efficient and nice!

Rental unit flooded called rubbish ready to remove carpet and wood they responded the same day with outstanding service highly recommend

- David Price. 10/20/2017

We needed help cleaning out our grandparents garage and these guys showed up and got the job done thanks so much

- Victoria Clemons. 10/19/2017

Super quick service, very prompt and politely called a half an hour before arriving. Extremely personable gentlemen. We call Rubbish Ready every time we need things hauled away and they have always exceeded our expectations!

- vannah chelle. 10/15/2017

Who can you call if you need some things cleaned up and hauled away? Call these guys! They were kind, professional, called me when they were on their way, and did an awesome job! They didn't tell me they might be able to work me in 2 weeks from tomorrow either. I called yesterday afternoon and they worked me in this morning. 😊 I'll definitely call them again! Thanks Bakari!

We used Rubbish Ready to clear out some of our office space. Bakari and his crew were courteous and professional. I had a few special requests and they took care of my needs, no problem. I've already recommended them to two friends. A+ job!

Great service, very professional. These guys stopped by on short notice ON A SUNDAY. Can't beat that.

Very fast, polite, courteous service. I really appreciate these hardworking guys!

I got same-day service on a Sunday for a reasonable price and good service.

- Jacob Robinson. 9/1/2017

Bakar great service. They showed when they said they would and they worked very fast.

- Squire White. 8/29/2017

These guys have been providing awesome service for us since we moved to little rock in 2014 with rental clean outs & cleaning services prompt and professional

- Charles Pricket. 8/20/2017

Very professional and worked in a timely matter. Best money I spent!

- Ebonee Scott. 8/19/2017

Bakari and Virgil were GREAT!!! I would recommend this service to anyone that wants quick friendly service. Thank you again.

- tige yeargin. 8/12/2017

Same day service. Best price. Friendly and courteous. Very professional. Highly recommend!

- jill storey matthews. 8/9/2017

Excellent, quick service, friendly staff

- Susie Rutherford. 7/21/2017

Bacardi good and onetime!

- Mark Jenkins. 7/11/2017

Rubbish ready provided quick, professional, and courteous service. They were available for same day service - they moved faster than I did! Thanks, Rubbish Ready, for your help.

- Scott Harris. 7/10/2017

Great service will use again.

Quick and easy, very affordable. Made the last step of our long move process go as smooth as could be.

- Drake Pieper. 6/26/2017

Fast service very reasonable prices highly recommend

- Timothy Porch. 6/24/2017

We use rubbish ready for all our property trash outs the service is superb

- Carmen Scott. 6/24/2017

Arrived on time. Very quick to remove unwanted items. Fast, efficient, curious. Highly recommend.

The Service was fast and great.

- Latosha Watson. 6/6/2017

Friendly, effective, efficient.

- Richard Smith. 6/1/2017

Bakari and crew knocked it out quick. 2 guys and a truck had a week before they could get me in so I called Rubbish Ready and they were at my house in 2 hours. Can't recommend them enough!!

Bakari and Virgil did a great job!

- Danny Gililland. 5/30/2017

Excellent service! Quick work. Very nice and professional. Highly recommended!

- Chris Travis. 5/29/2017

- Larronda Rainey. 5/29/2017

- Bryce Freeman. 5/16/2017

They are always prompt and professional and I've used them multiple times. Great for help with spring cleaning projects.

- Bryan Turriff. 5/15/2017

Bakari was excellent and showed up the next day. would recommend to anyone!

- Audie Partain. 5/8/2017

Very efficient. Great same day service. Workers friendly and fast. Good price.

- Kate Zbornak. 4/19/2017

Fast and reliable service. They are the best. Very professional and courteous and responsive always. Same day pickup often if not always possible

Bakerie was very nice came and got my furniture in a timely matter he was very professional happy I picked them to remove my stuff.

- Joanna McDaniel. 4/8/2017

Two of the hardest workers I've seen in some time. Great attitudes and went the extra mile to take care of our issues. Took an hour for them to do what would take me a half a day.

Prompt service, decent price

Rubbish Ready was quick and easy to use and was courteous of our home in their removal of our furniture. Will use again!

bakari took care of us !!

- Monica Angrand. 3/20/2017

Very professional, fast service at a great price! Would definitely use again and highly recommend.

- Rosalyn Watts. 3/15/2017

These guys did everything right. Called the morning of to confirm, called when they were on the way and arrived at the time they said they would. Quickly, efficiently and professionally loaded up and hauled away some heavy items. Very good experience. I will use them again.

- Melissa Serfass. 3/14/2017

Bakari and his assistant were courteous and efficient. Thanks guys!

- Sean Flathers. 3/12/2017