Don't stress we remove for less, call the best for your unwanted junk and mess!
Affordable Junk Removal in Little Rock, Benton & Surrounding areas AR
Dear customers Since everyone is urged to clean the environment due to Covid 19 breakout. We have seen a rapid increase in the demand in our service, though the demand is high. We are taking extra measures at this time to ensure the safety of our clients and staff. Please advise us prior to coming if you require any additional steps be taken. we are open and ready to remove at your request
Fully Insured for Your Protection and Ours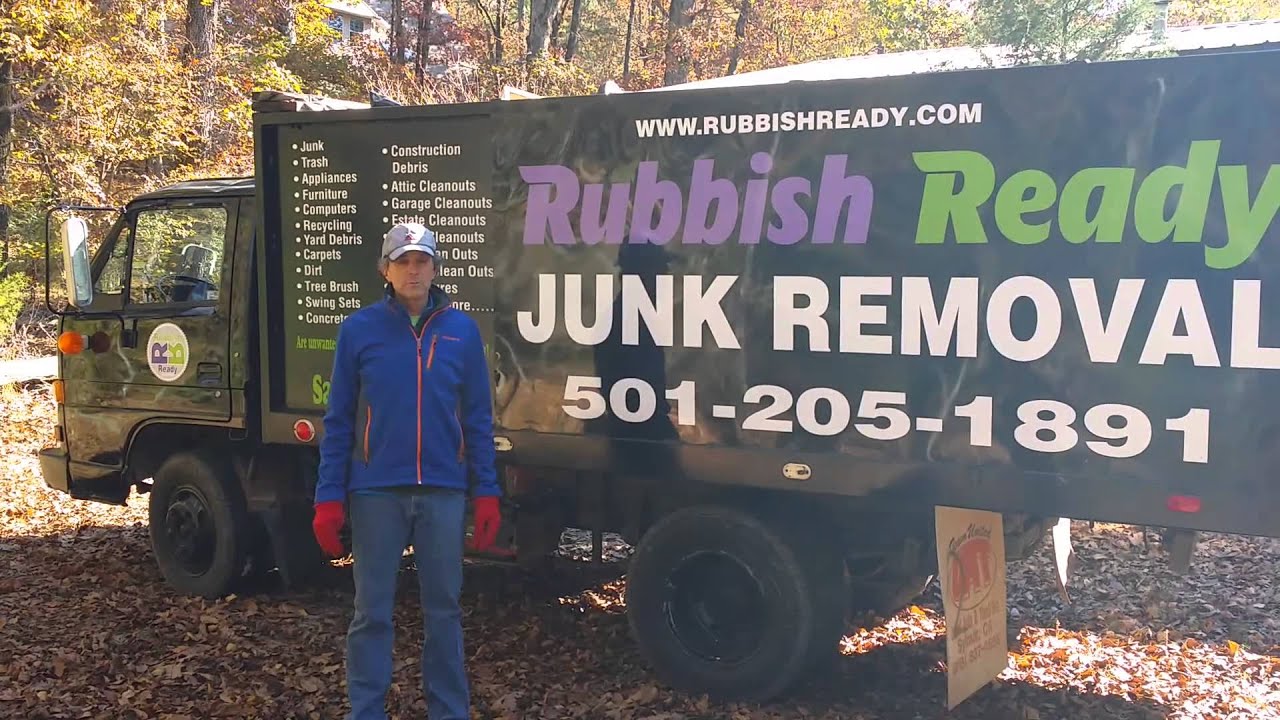 Don't Stress, We Haul For Less! Call The Best For Your Junk And Mess!
If you've got a mess that's overwhelming, call Rubbish Ready Junk Removal in Little Rock AR, Benton AR & Surrounding Cities to blow the debris away. The locally owned and operated staff of Rubbish Ready Junk Removal has 10 years in the business, promising the efficiency and thorough job you expect for your hard-earned money.
Perhaps you've just scored a new business, but the environment is less than savory. A great way to clean up any wayward junk is by hiring a team to do it for you. What's excellent about our company is that we seek to offer environmentally friendly services. We recycle a large percentage of all waste products we haul away. Don't hesitate to call us at Rubbish Ready Junk Removal in Little Rock AR & Surrounding Cities We also offer:
Rubbish Ready Junk Removal is a Little Rock, AR, junk removal service that will make sure to keep your best interests in mind. You can contact us any day of the week, and you'll be greeted with a quick response and prompt service. Don't hesitate to set up an appointment as soon as possible.
Please
click
the link below to write us a review on Google. We are always looking for feedback from our valued customers.
Are piles of junk taking up valuable space in your Little Rock & Benton AR home or business? Do you have unwanted furniture, appliances, or equipment sitting around collecting dust? Don't resign yourself to a lifetime of clutte...
Unwanted or broken appliances do more than just take up space. In some cases, they can actually create a hazardous work or home environment. If you're in need of appliance removal services in Little Rock, AR, call on us...
These guys were very professional, friendly and fast! So happy with the space they cleared in my garage.

I have used them twice. They came when they said they would and do an excellent job removing my junk.

Excellent job.

Called in morning to clean out a garage and yard. Scheduled same day cleanup. Came back for House Cleaning!! Would definitely use them again.

Bakari and his helper did great. Fast and easy removal.

I really appreciate DKari* and his team for coming so quickly! Thanks again!

I called them on Saturday and they came through same day, just a few hours later. They were professional and courteous with their service. I recommend them for any pick up needs.

The team was very quick. They took everything i needed them to take for a very fair price.

Rubbish Ready was able to schedule quickly and removed our hot tub. They left the area very tidy and quoted a fair price.

Guys were here within an hour of calling. Very professional service!

Bakari and team were phenomenal at getting my removal completed. I called this morning and they arrived same day, I am so relieved and a happy customer!!